VMware vRealize Orchestrator Cookbook: Review
I've been looking for a decent learning resource for vRO since I started working with it and finally got some time to get through the VMware vRealize Orchestrator Cookbook by Daniel Langenhan. I spent most of my early days with vRO just trying to figure out how to do things and why some things worked in a particular way - and mostly haranguing Michael Poore for some answers :-)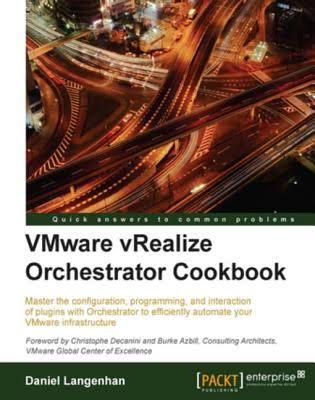 This book covers getting everything setup and various decisions to be made about the design of the infrastructure pieces needed; Windows vs Appliance, which database, clustering etc. Then moves onto workflow development and working with the various plugins. Full table of contents is below:
1: INSTALLING AND CONFIGURING ORCHESTRATOR
2: OPTIMIZING ORCHESTRATOR CONFIGURATION
3: VISUAL PROGRAMMING
4: WORKING WITH PLUGINS
5: BASIC ORCHESTRATOR OPERATIONS
6: ADVANCED OPERATIONS
7: WORKING WITH VMWARE INFRASTRUCTURE
The vRO client is not the easiest to get screenshots for since there are often multiple pieces to the puzzle to illustrate a single point. This book however deals with it excellently; an example is below.

I also chuckled when I read various similar comments to the below throughout the book, i.e. when you start to get into some of the more advanced topics for vRO there is not a lot of information out there on how to do it.
"The VMware documentation about policies is really nonexistent…"
"The event variable is almost not documented and any information is hard to find…."
Summary:
I wish this book had been out a couple of years ago when I first needed it since it would have been invaluable to get up-to-speed with the product. However, even with a fair amount of experience with vRO I still found it an excellent read. It plugged many gaps in my knowledge and gave a lot of interesting background to things I (thought) I had already figured out. There are loads of examples that I'm sure I'll be referring back to regularly.
Note: I bought a copy of this myself, so no promotional views here :-)