Learn Active Directory Management in a Month of Lunches - 50% off promo code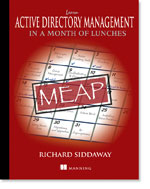 Wanted to let readers know that I have a 50% off promo code for an upcoming book from Richard Siddaway, 'Learn Active Directory Management in a Month of Lunches'. It's now available in Manning's Early Access Program and I have a 50% of promo code which is valid until Feb 26, 2013 12 midnight EST. Use the code below when ordering:
learnadmau
Here's the book abstract:
Active Directory is the heart of a Windows network, providing a centralized location for administration, security, and other core management functions. For example, Active Directory authenticates all users in a Windows network and enforces policies for managing your desktop estate. If you're new to Active Directory administration—or if you find yourself unexpectedly thrust into that role—you need to get a handle on Active Directory quickly. This is the book for you.
Learn Active Directory Management in a Month of Lunches is a practical, hands-on tutorial designed for IT pros new to Active Directory. It skips the theory and concentrates on the day to day administration tasks you need to know to keep your network running smoothly. Just set aside an hour a day for a month—lunchtime would be perfect—and you'll be comfortable and productive with Active Directory before you know it.
This book makes no assumptions about your background and starts by introducing Active Directory and walking you through its basic features. You'll learn how to administer AD both from the GUI tools built into Windows and by using PowerShell and the AD cmdlets. Along the way, you'll touch on best practices for managing user access, setting good group policies, automating backup processes, and more. The examples in the book use Windows Server 2012 version of Active Directory and point out any important differences from earlier versions.