So after yesterday's poor start I was really hoping for better today and thankfully it was.
First up was the keynote, starting out with some drummers, which seemed to influence some of the speakers later using words they shouldn't be using at that age like 'jiggy'.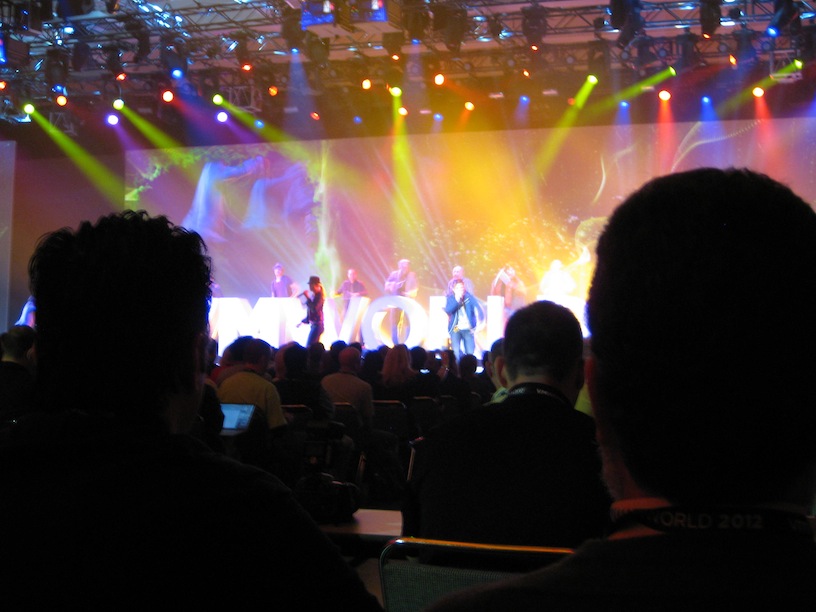 It was streamed live and you can watch it here if you missed it.
The first main announcement was around vSphere 5.1 and it being bundled up into the vCloud Suite along with vCloud Director and Site Recovery Manager. There is some good news around this if you are an Enterprise+ customer since you get a free upgrade, but again, those still stuck on only Enterprise miss out. From my own personal experience it was often hard to justify the Enterprise+ licensing to management if you didn't need many of the features bundled into that SKU. I guess there is now more weight to help those justifications, but some of those on Enterprise might be starting to feel like the poor relations. The obvious thing about this bundle is to drive adoption of vCloud Director in the larger enterprises who can afford Enterprise+.
Everyone knew the next announcement was coming after it was staged leaked earlier the previous week, the removal of the vRAM licensing model that was introduced last year to much unpopularity and was subsequently modified with higher RAM limits. VMware claim they've "listened to their customers" and consequently taken it away. Brian Madden tweeted that they'd done that before introducing it, while Simon Gallagher interestingly posts that they should have gone the other way and moved to VM based licensing. I actually think this makes a lot of sense, but it would be a pretty hard sell now to customers after last year's vRAM fiasco. I think VMware will be pleased to just have Microsoft stop endlessly going on about the vTax, which was getting pretty dull. I haven't really met anyone who was negatively affected by the revised vRAM limits, but it seemed to be a thing that customers would complain about, even if it didn't harm them - human beings are strange sometimes! At least we can get back to talking about product features.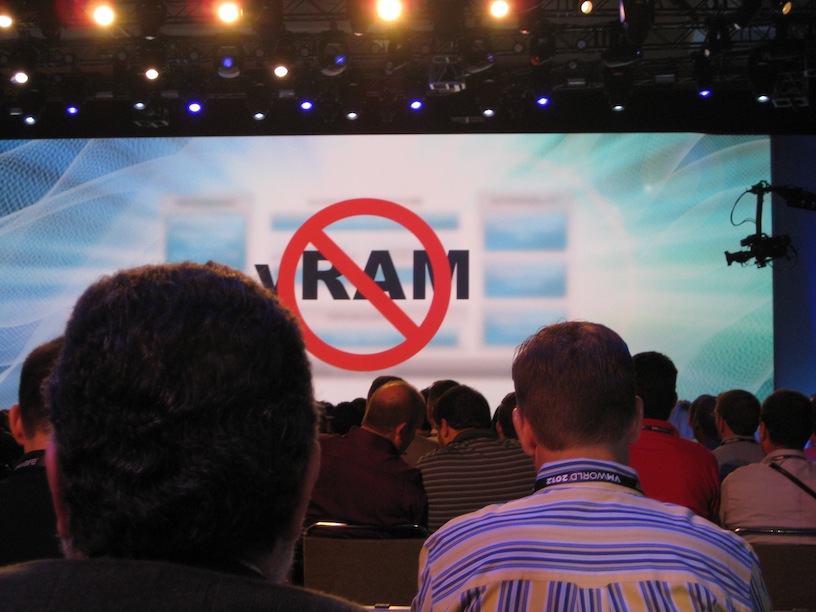 Other announcements included VMware joining OpenStack, creating a new Cloud Ops forum and some enhanced offerings for SMBs.
Bas Raayman has a summary of links here with loads of information on the details.
I then attended my first breakout session which was Architecting a vCloud with Duncan Epping, Chris Colotti, Aidan Dalgleish and Rawlinson Rivera.
Architecting and design has not been a large part of what I normally do, however it was good to get an insight into the thought processes of these experts when they are putting together a solution. Research and communication around all areas of the business were recommended as key elements.
I then spent some time in the vSphere Storage Features and Enhancements session from Cormac Hogan which was very enjoyable and informative. I already knew some of the content, but there was some good vSphere 5.1 storage info in there.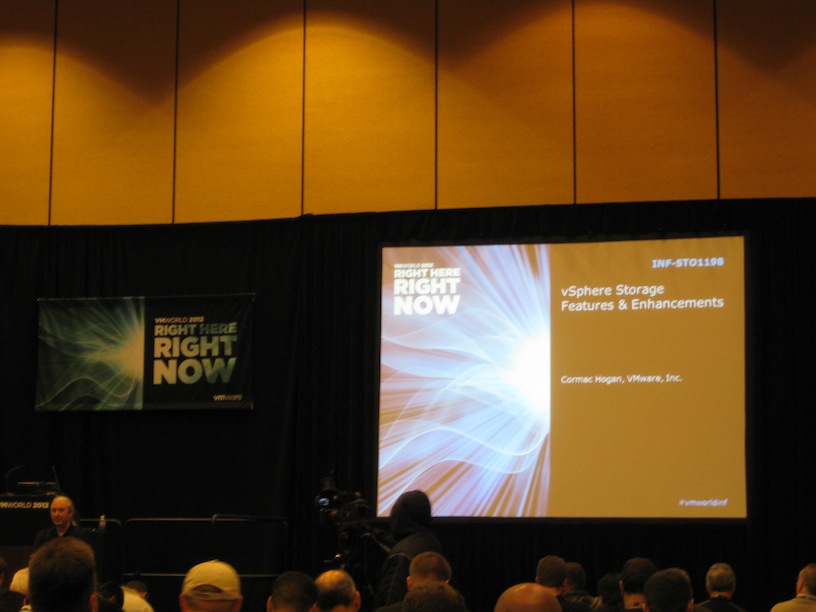 One of my main aims of the week was to check out the #vBrownBag and #NotSupported sessions in the Hang Space so I grabbed some lunch and spent some time there. Unfortunately there were some technical issues with the PuppetLabs session, but I enjoyed the introduction to Cloud Physics. If you have the opportunity then I recommend you get down there to see some of the great content they are putting on.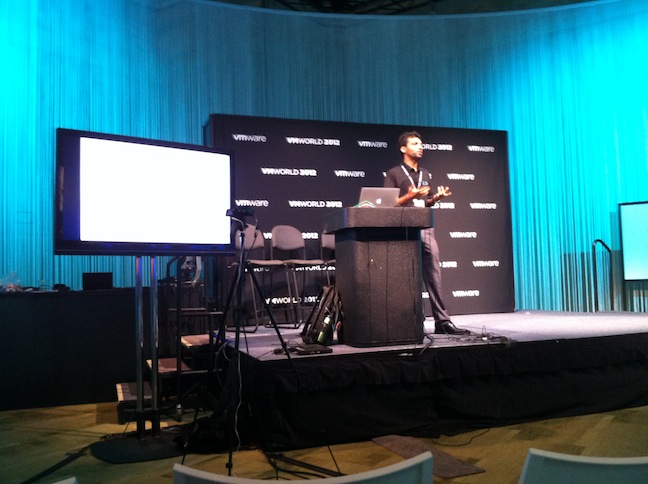 Simon Long was putting to rest Operation PinkShirt so I wanted to get along to support him in his View session and I was interested in the content around View anyway. I always admire people who work hard to overcome things they find difficult and he did a great job.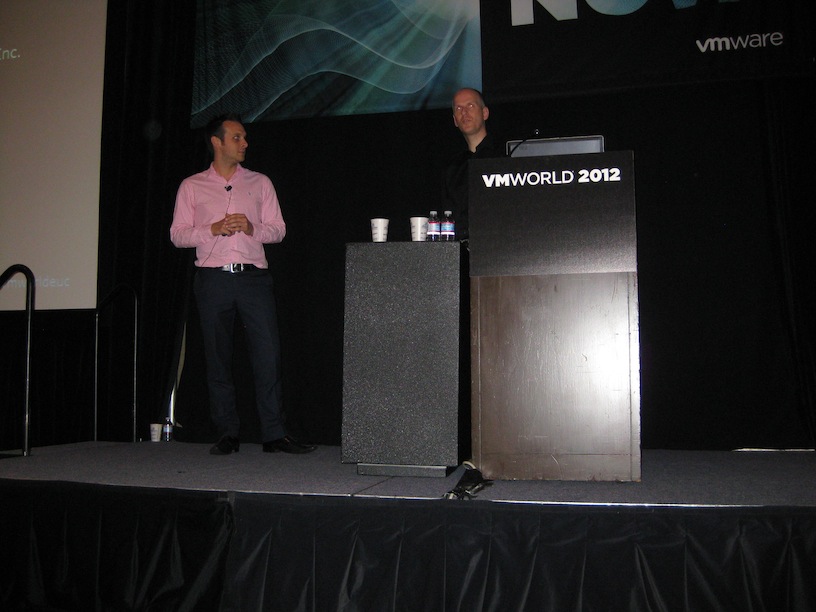 Finally, to wrap the day up nicely was the vExpert Reception. John Troyer and Alex Maier do an amazing job with the vExpert community and I enjoyed meeting some other vExperts who I have previously only conversed with on Twitter.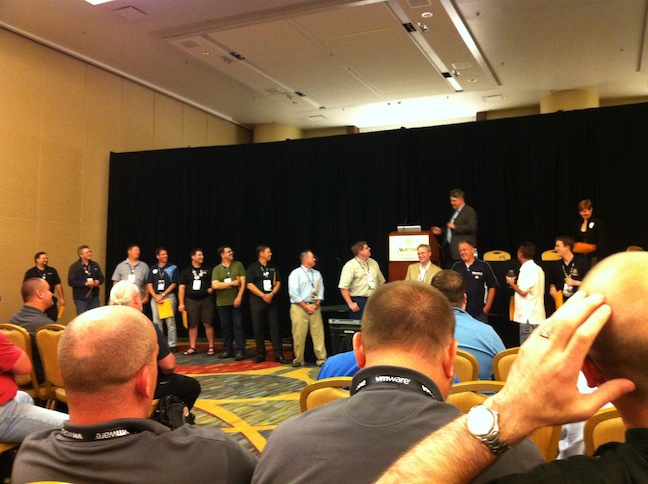 Looking forward to another good day tomorrow……