TrainSignal VMware vSphere 4 VCAP Training Package - Review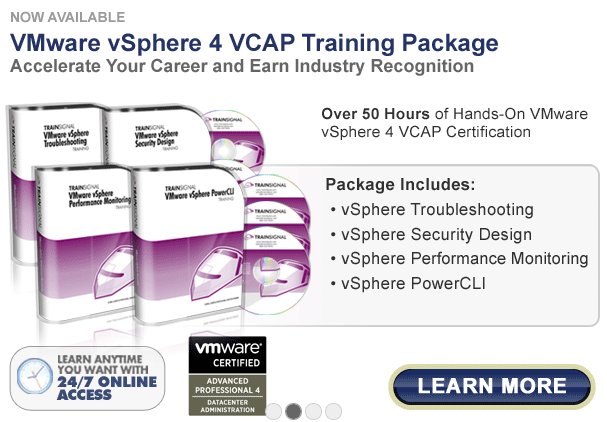 I was lucky enough to receive a review copy of TrainSignal's VMware vSphere 4 VCAP Training Package and here are my thoughts on the experience. I'm disclosing the fact upfront that it was a review copy and I hope you will trust that my opinons are genuine.
I had previously used TrainSignal's Exchange 2010 package to quickly get up to speed on a project I was working on at the time which had proven to be a great resource. My thoughts have recently turned to pursuing the VMware VCAP certification programme since I think this will soon prove to be a useful factor, amongst other items, to distinguish yourself from other virtualisation professionals in the market place and also would be a great learning exercise. I've decided to wait for version 5 of the VCAP programme, but in them meantime thought that putting in some groundwork with material available for version 4 would be a good start.
The TrainSignal VCAP package is made up of four individual courses:
vSphere Troubleshooting
vSphere Performance Monitoring
vSphere Security Design
vSphere PowerCLI
all of which can be obtained individually, but have been bundled up into this package. As with their other training courses, the product ships as a set of DVDs, but also contains formats for watching on your media device, e.g. iPad, AND online access to stream via a web browser. I had access to the online version for this review and have so far successfully managed to stream the entire Troubleshooting and Performance courses plus a third of the Security Design course while commuting on the train. So a thumbs up to my 3 Mifi connection and TrainSignal's web hosting! (The occasional interruption and restart though would mean that the full package with the iPad versions would have made things a fair bit easier)
David Davis provides the content for the Troubleshooting and Performance Monitoring courses and his enthusiastic start to each module "Hello and welcome to TrainSignal!" really helps things get started (especially when I begin watching most of these at 6.30am on the train). I learnt an absolute ton of information while watching these two courses and it has really helped me not only study for the exam, but improve as a virtualisation professional. The videos are a mix of slides and demonstrations and a great way to get into the topics. I can highly recommend then following up with the published course notes and working on them in your test / home lab environment. There are many modules in each course and plenty of real world examples to stop things from getting dry.
I've recently started the Security Design course, initally presented by Jason Nash, and am finding this one equally useful so far. I wasn't quite sure what this course would have in store for me, but there is plenty of technical content to go alongside learning about security design principles for virtual environments. For instance I have just finished the module with an indepth look at vNetworking, in particular the VDS and the Cisco Nexus 1000V which contains not only the reasons why you might use each one, but also how to configure them.
I have no doubt that the PowerCLI course with Hal Rottenberg will be equally as good, but as that is probably my strongest area with vSphere, I'm leaving that one till the end of the four to view.
Having previously completed a lot of self study from IT books, I now first of all look at the TrainSignal series instead if I need to learn a new topic and going on an instructor based course is not practical. Reviewing this VCAP series has really firmed up that opinion for me and I look forward to a package for v5 shipping whenever those exams become available.
I'm confident that any or all of these courses would make a great Christmas gift for the virtualisation geek that you know and love :-)