VMworld Europe 2011 Wrap Up And Why You Should Attend Next Time

I was fortunate enough to be able to attend VMworld Europe 2011 in Copenhagen a few weeks ago, so here's a wrap up post of my experiences there. I wasn't sure until pretty much the last minute whether I would be able to go or not since my change in employment status was happening around the same time. Thankfully it worked out and my new employer allowed a few days off early in the contract to be able to attend the event.
Consequently I wasn't as well planned for the event as I had been last year and my session choices were pretty much last minute, rather than planned well in advance . The event officially runs Tuesday - Thursday (unless you attend the partner event on the Monday), however last year the labs opened on the Monday afternoon. I had planned this time to get out there in time to take advantage of this, but unfortunately work commitments prevented this. Given the amount of other content to get through in the rest of the week, I can highly recommend arriving in time to take advantage of this additional lab time and I would certainly plan to do that myself next time. Working through a few labs on the Monday, particularly when it is quieter than the rest of the week, would see you well ahead.
So instead I arrived at the Bella Center very early on Tuesday morning to avoid the registration queues and started to have a wander around. The first thing I stumbled across was the PowerCLI book that I helped to co-author, up in lights in a prominent position in the book store. This was a nice surprise as I had not expected that.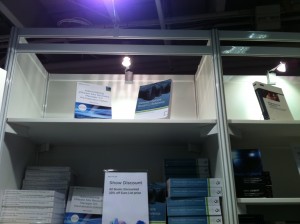 Then it was straight into some sessions. It did feel slightly odd to start off in sessions before the main keynote kickoff, but I think many conferences work like that now. My good friends Alan Renouf and Luc Dekens had one of the first sessions of the conference, so I went along to support them. I didn't really need to though since the session was easily full up - Managing VMware ESXi with VMware vSphere PowerCLI was a very popular session.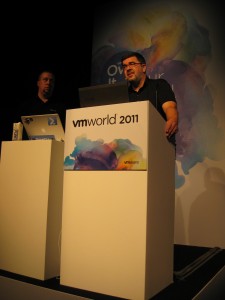 We were also treated to another visit from PowerCLIMan and were able to quash the rumours of those who think it is Alan Renouf behind the mask.
PowerCLI-Man "The Return" from Alan Renouf on Vimeo.
I then went exploring and admittedly it did take me a while to get my bearings since VMware had taken more of the venue this year and moved a lot of things around. Similar to when you go to the supermarket and without thinking wander to the aisle where you expect to find an item only to find what you are looking for is not there! (I think this is what happens when you start to get old!)
One addition I did really like was a massive screen showing tweets and updates from the event in the main hall. The first time I walked past it I noticed some tweets from community people I know and it was quite fun to enjoy their (and others) tweets appear up there.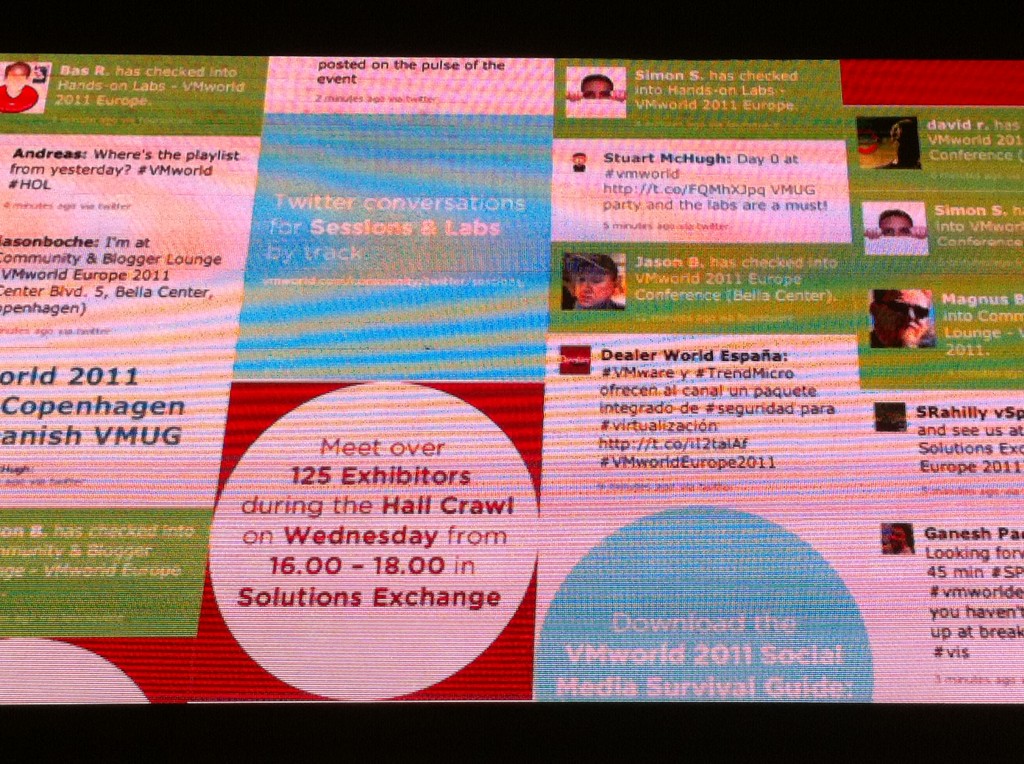 In particular, well done to Gregg Robertson for getting his 'Steps are the VMworld band' tweets up there!
Also appearing on the big screen were VMworld TV, so it was quite cool to just hang out there sometimes and watch it. Low and behold while I did so I saw a couple of dodgy looking characters appear!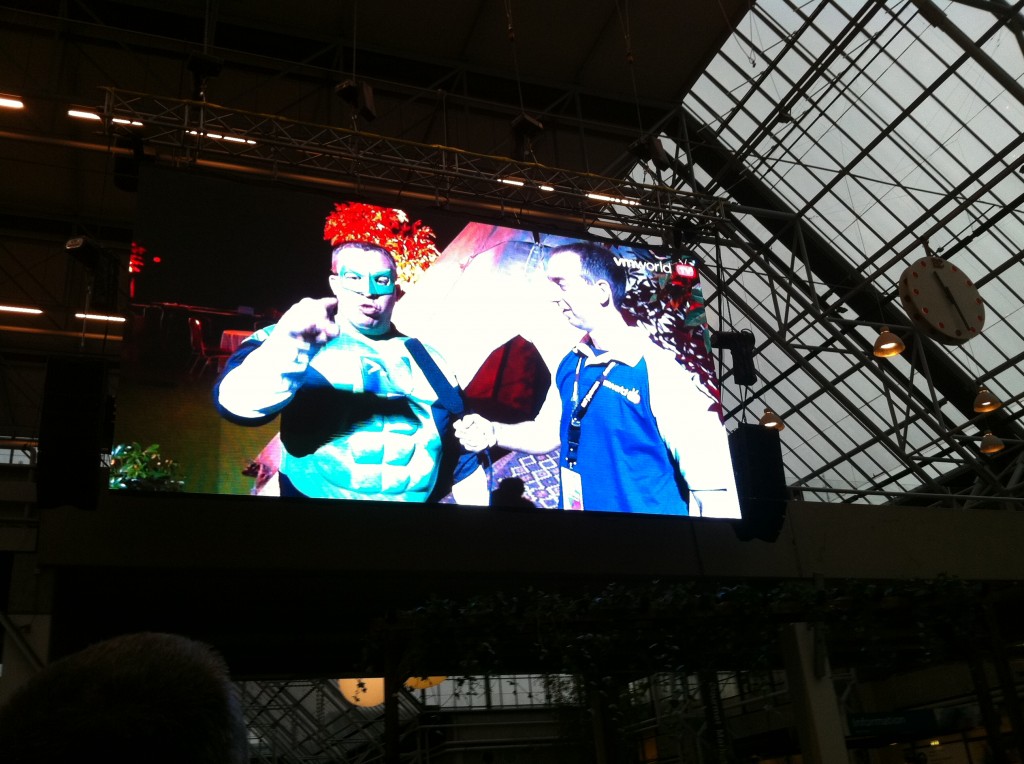 Tuesday afternoon saw the first keynote. Armed with my Blogger button fixed to my entry pass, myself and a number of other familiar faces from the London VMUG were ushered into the press section at the front. It was pretty empty at the time, so the prospect of filling up the empty seats with this motley rabble probably seemed like a good idea!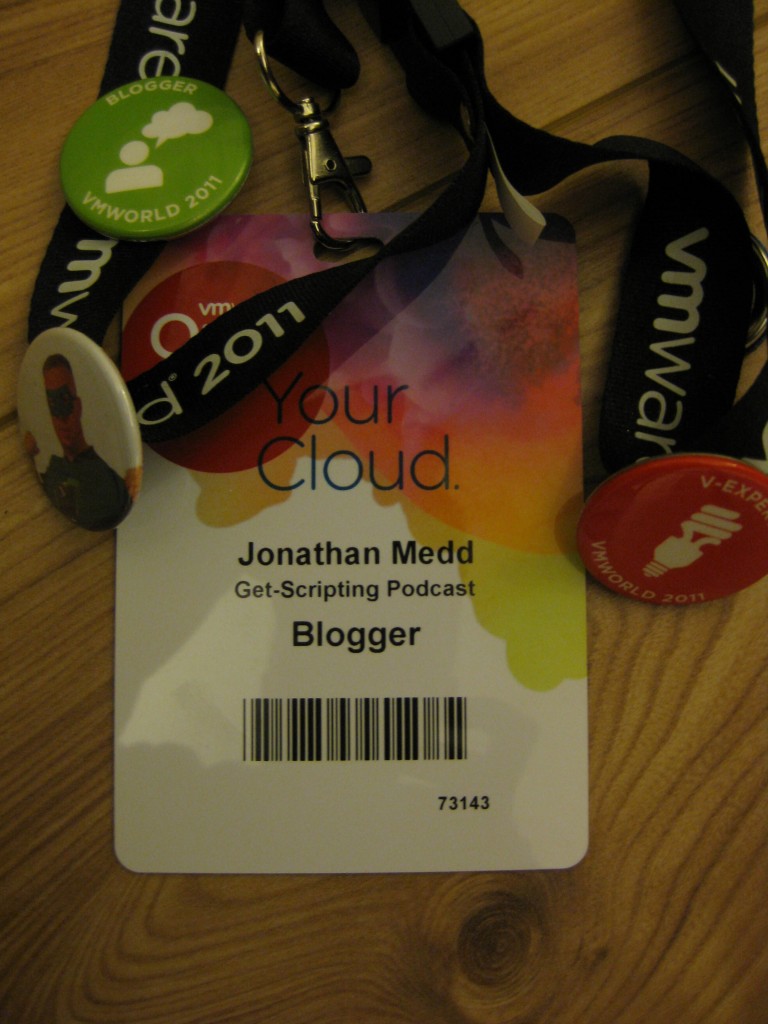 So we had a pretty good view down at the front. The theme of the whole conference was 'Your Cloud, Own it' ….aka Your Cloud, You're Worth It, and this obviously was being pushed at the keynote.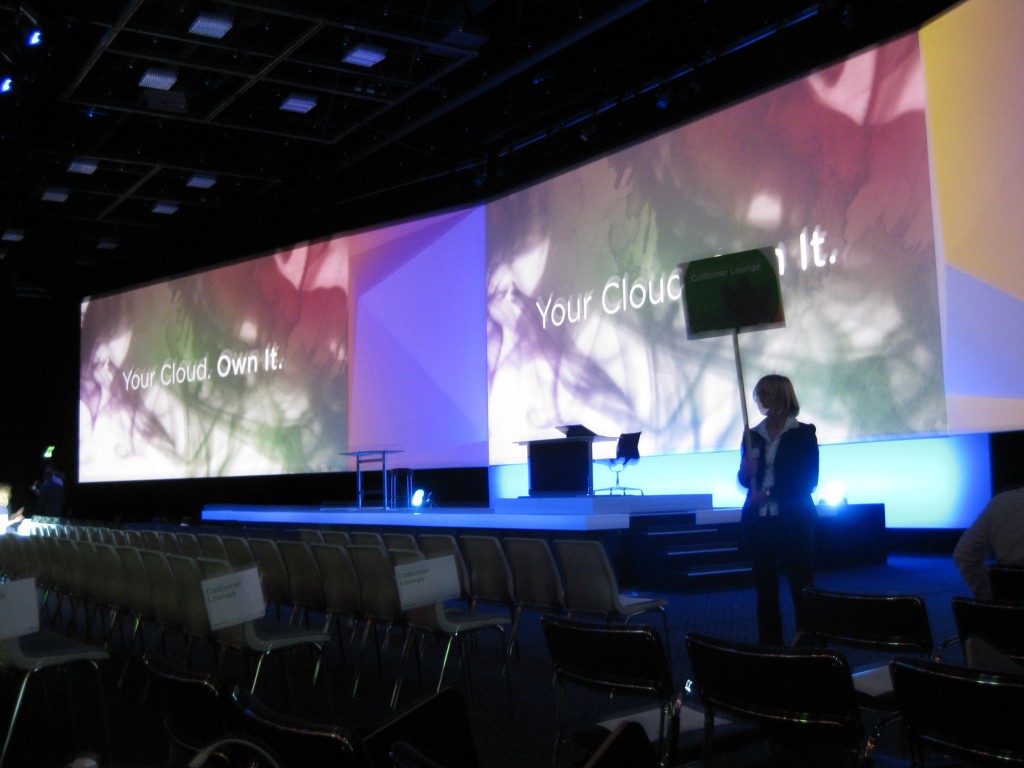 At VMworld Europe 2010 there were around 6000 attendees, we were informed early on in the keynote that this year had broken through the 7000 mark. I think that's pretty impressive and definitely the reason why they had taken the extra space at the Bella Center, because it did seem a little cramped last year.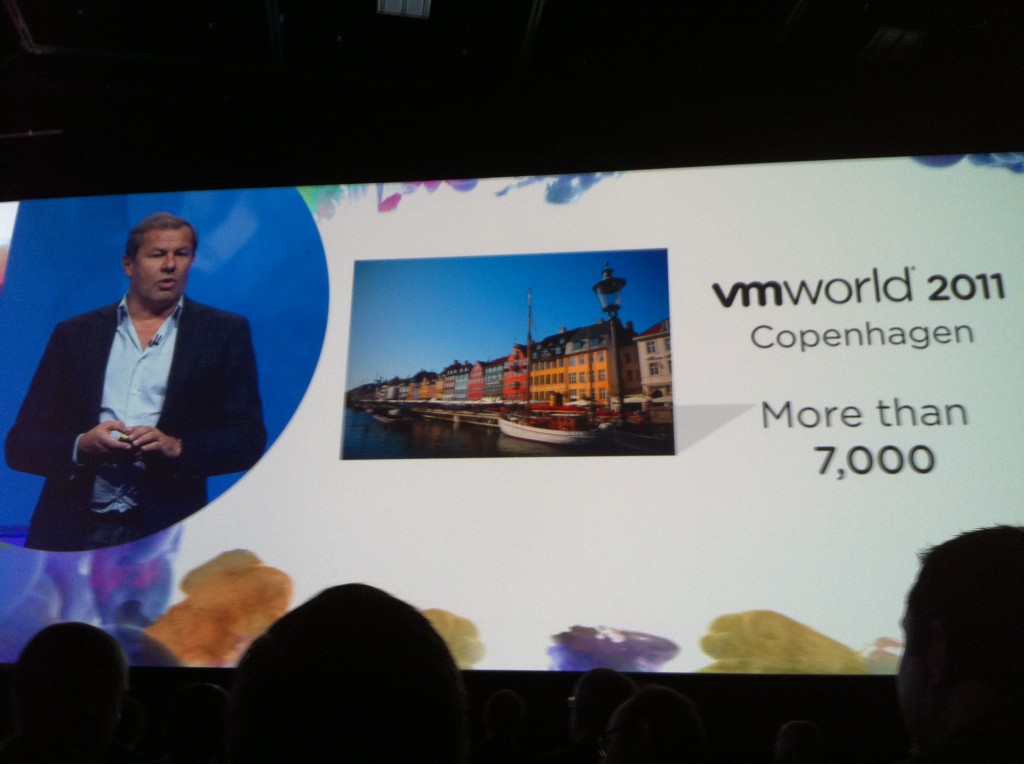 The main part of this keynote was delivered by Dr Herrod and while it was mostly a repeat of the Las Vegas event keynote, I still found it quite interesting to see how VMware are positioning themselves as more than just a virtualisation vendor.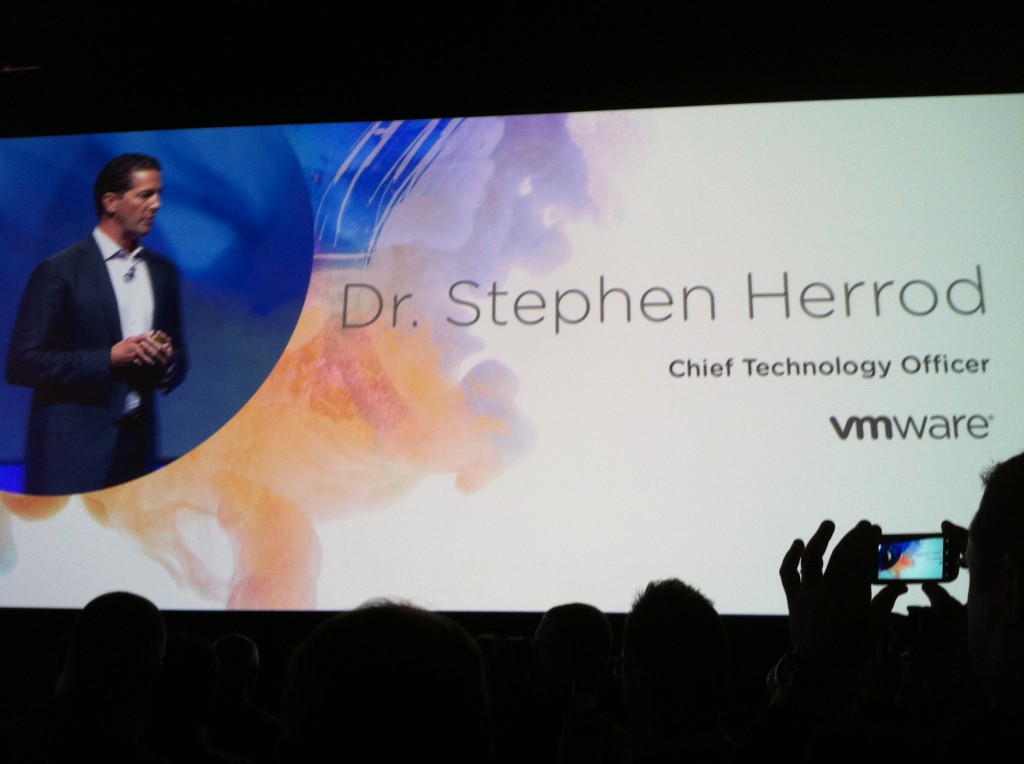 A big part of this is Horizon. This encompasses a number of projects, but the main theme seems to be giving users access to their applications wherever they are, on whatever device and using them in a smarter way.
I've heard a fair bit about Horizon Mobile, but it now seems like a release is not too far away and it looks like quite a product. Initially for Android devices, you would be able to take your personal phone into the office and your firm give you an image of their corporate device to run independently on your own phone. This could mean an alternative to attempting to merge work apps onto your own phone, or what I have always done and carry two phones around.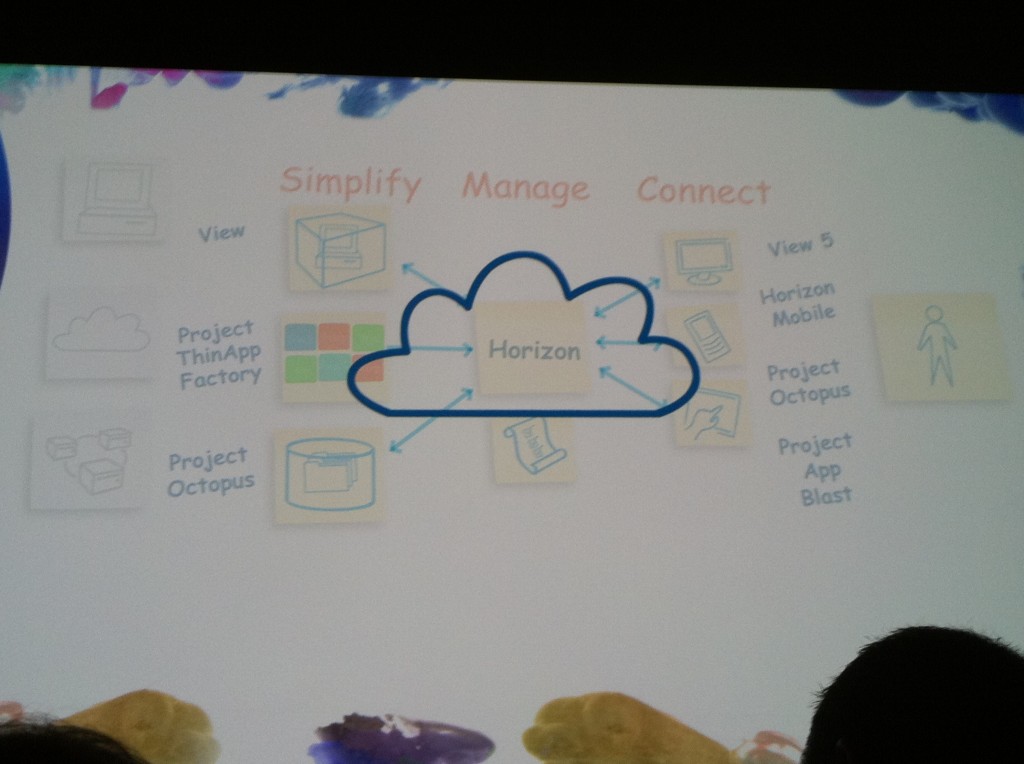 With that over we headed over to the place to be, the Veeam party where Ricky El-Qasem seemed to be enjoying himself far too much as a doorman!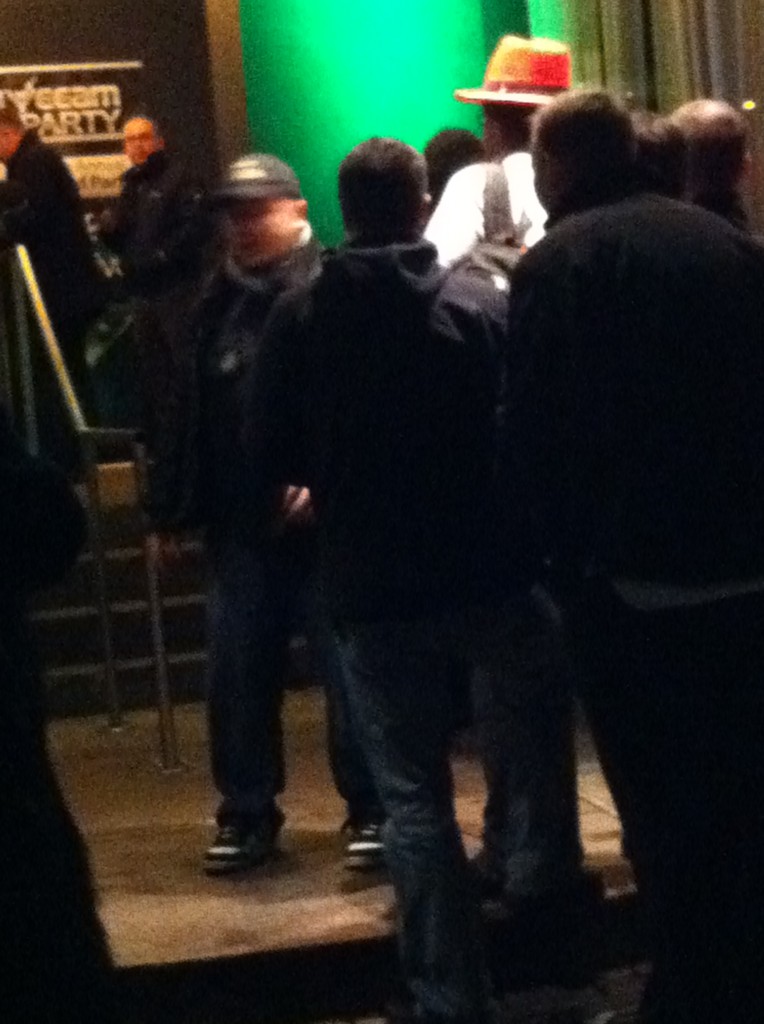 On the Wednesday I spent a lot of time in the labs, unfortunately missing a couple of sessions, but wanting to get through some having missed out on the Monday. Generally, I did not have to queue, but on the occasions I did, typically it was only a short wait. A handy electronic board displays your place in the queue.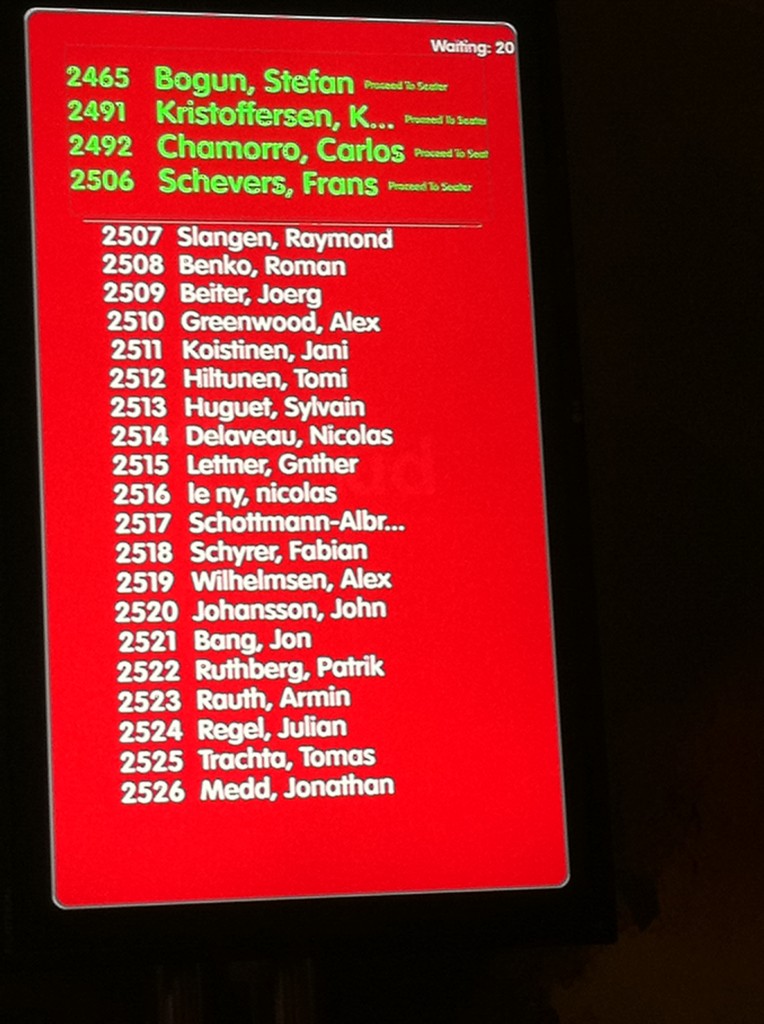 The labs themselves are a great opportunity to spend some time working through topics that maybe you don't normally have the time or access to work on. There were around 250 seats and I think 25 - 26 labs to pick from. The most useful one I found was the SRM lab. Not a product I've had an opportunity to work on before, but excellent to get hands-on experience with.
The shear scale of the labs at VMworld is quite staggering. I didn't catch the final figures, but they were projecting around 8000 labs taken. When you consider that each lab will be made up of multiple VMs and there could be up to 250 being run simultaneously, it's pretty impressive. A big screen in front of you showed live stats on these labs.
The labs ran out of three datacenters, one in Europe and two in the US, and provide a great showcase for VMware to demonstrate how to run applications in the Cloud using their own products.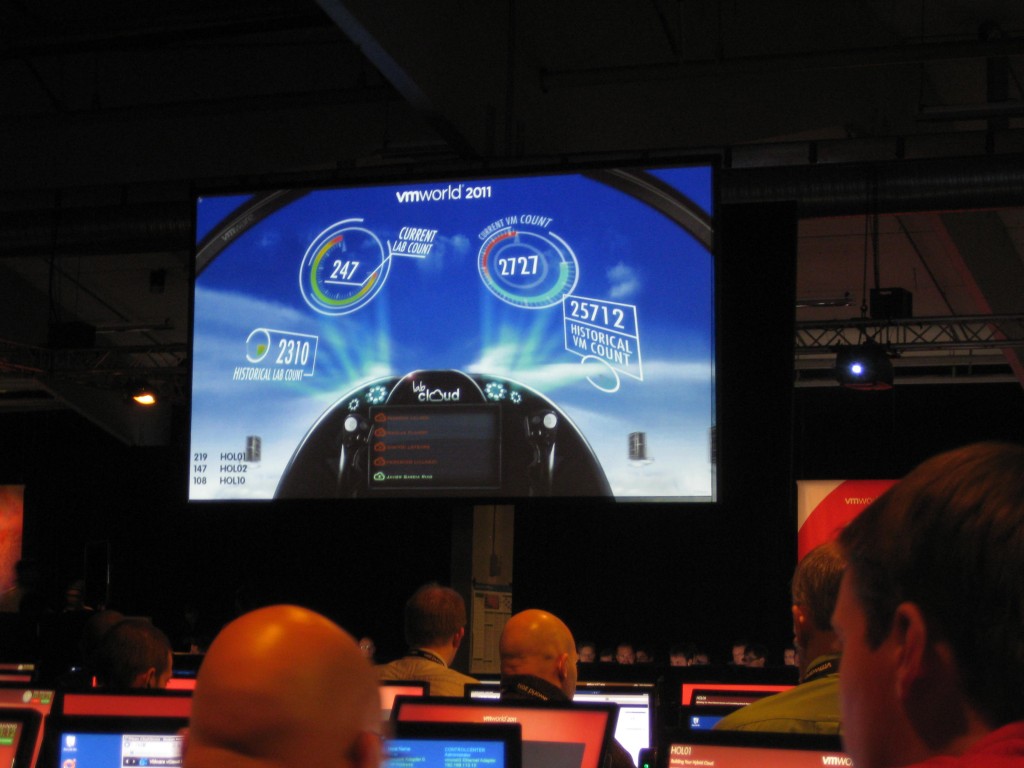 Speaking of labs, possibly the best session I went to during the conference was with Clair Roberts, VMworld Labs User Automation and Workflow Architecture. Clair is one of the main brains behind the design and running of the labs and gave some great stories from behind the scenes. This included the story of how they performed quite poorly on the first day in the US last year because of small mistake in his code, the challenges he had in resolving that and how they had moved on since last year. He also told of how a couple of years ago a fork lift had driven into a rack of kit when the labs were hosted on the VMworld site and gave them some real issues!
A big change this year was the pre-provisioning of labs, i.e. they looked at patterns of lab use and tried to predict future demand so that when you sit down and pick a lab there is already one spun up for you.
He also gave us a quick live view of vCenter running the lab. I captured some of this below, which unfortunately did not quite come out as well as I hoped, but the demands on vCenter are pretty heavy to say the least. The number of tasks appearing in the Recent Tasks view in vCenter was literally streaming down the screen like something from the Matrix.
During the entire event I spent a lot of time in the Bloggers Lounge. This is an area set up by John Troyer and co, and provides those from the community an area to chill out, meet other bloggers and an opportunity to write some blog posts. As you will see below, there was also a mini-recording studio where a number of recordings were made both officially and community related. Below are the vSoup guys Chris Dearden and Ed Czerwin interviewing Ed Grigson , so a great opportunity for anybody to record a podcast or get involved with one. This was one of the best places to spend time during the conference as you get to meet other members of the community who you may only have engaged with online previously.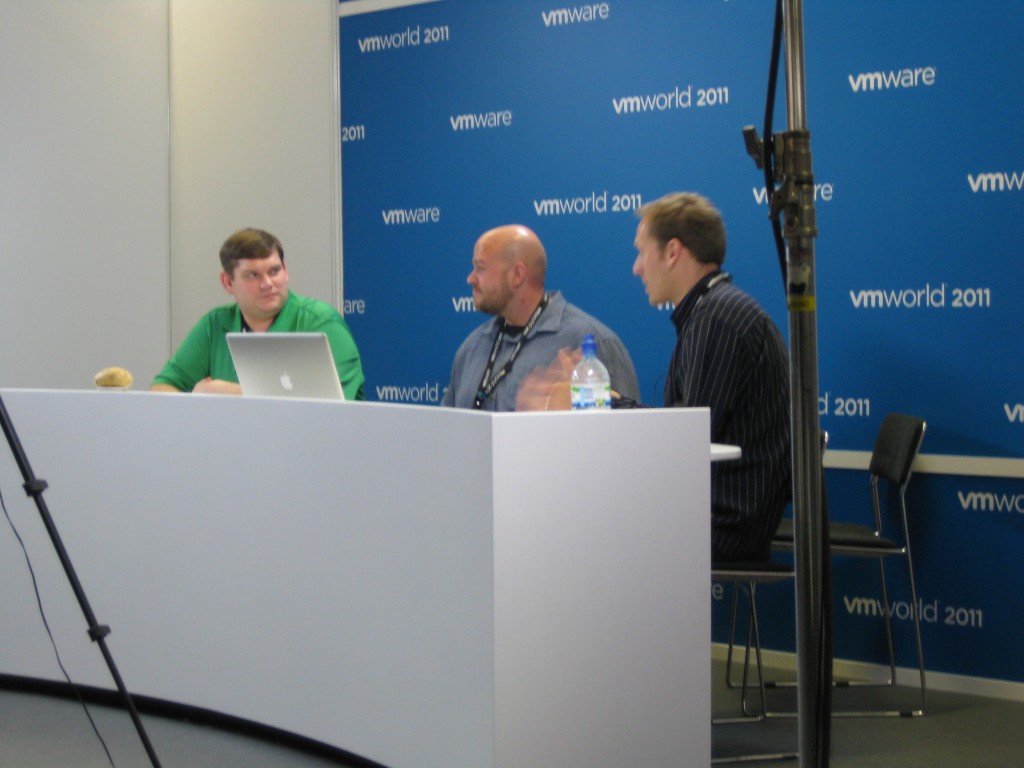 If you haven't attended VMworld before and either work with or have an interest in virtualisation then I highly recommend you got to either the US or Europe VMworld next year. If you do make plans to go then I also recommend that between now and then you engage with the community, either through the forums, blogs or on Twitter so that by the time you get to the conference there will be people to meet up with. Here's my top five reasons on why you should go in 2012:
Brilliant opportunity to network with peers from the community
The hands on labs are a fantastic learning opportunity with a wide variety of topics to choose from
A large selection of sessions on all kinds of topics to attend
The opportunity to meet 1-1 with a product expert and grill them with any questions you have
It's in San Francisco for the US or Barcelona for Europe - both very cool places!
I'll leave you with a summary video from VMworld TV - VMworld Europe Wrap . Check it out at 3.05 where I make a very brief appearance, blink and you'll miss it. As usual, I was too busy tweeting to be doing any real work!
I'll leave it to a few London VMUGers to round it off with their own unique take on Denmark. :-)